We are back from a 6 weeks trip in South Portugal in our self made camperized LWB 4wd L300 and the L300 proved to be very good!
Here are some pics of the inside. First pic is the rear of the van. Because we have a long wheel version, we have nearly 1m80 behind the rear passenger seat. This means that I could build a permanent bed. It is in a L shape so that we can use it during the day as a couch if it is too windy or too cold outside. Under the short side (left), there is a chimical WC under the mastress. and on the long side there are three separated spaces for clothes, food and in the back all the kitchen tools (right bottom corner in the pic). For sleeping at night, there two additional wooden planks that transform the L in a full bed using the second smaller mastress that one can see on the right side (we have also an additional plank with removable legs that is used as an outside table and as a bed for my 2 years old son -- it fits over the rear passenger bench):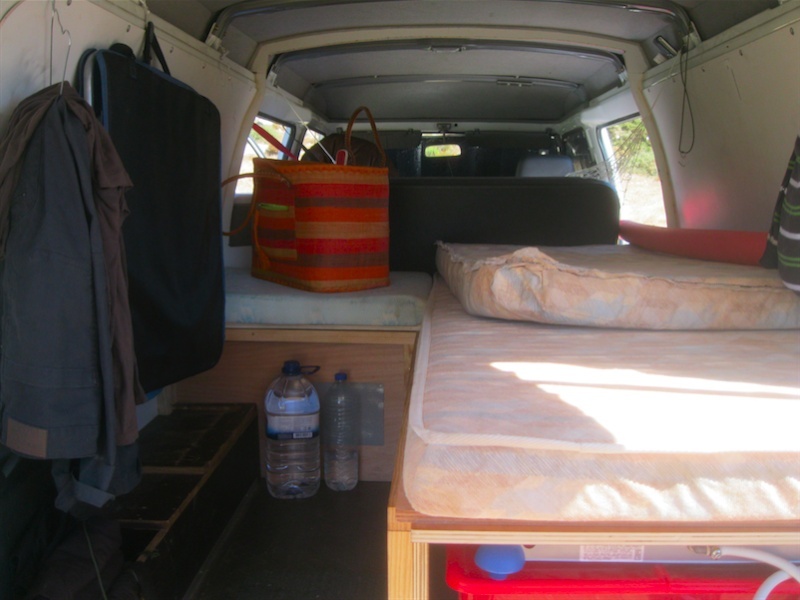 Beside the rear passenger bench, I have installed a 12V/220V/Gaz fridge (there is an inverter under the passenger seat) with a small sink for those places where you don't want to spoil anything (although we always use ecological soap). There are 2 jerricans under the sink so that we can put used water inside with a pipe from the sink + some additional space for stuff:
Not in the pics, we made a collection of black curtains with magnets on top and fishing weights at the bottom that we can put everywhere, in particular in the back of the car when we sleep with the rear door open. I also use a metal cable with climbing rings at the ends so that although the rear door is say 20cm open, no one can open the boot quickly from the outside (Portugal is very safe but there are other places that may not be). We also made relfecting shades for all the windows to avoid to much heat inside (and by the way avoid that everybody can see inside when we park the van). This was a very good choice as it works very well to keep the van not too hot inside.
The 4x4 abilities of the L300 proved to be very helpful to find very nice camping places. Here is a sample of pics: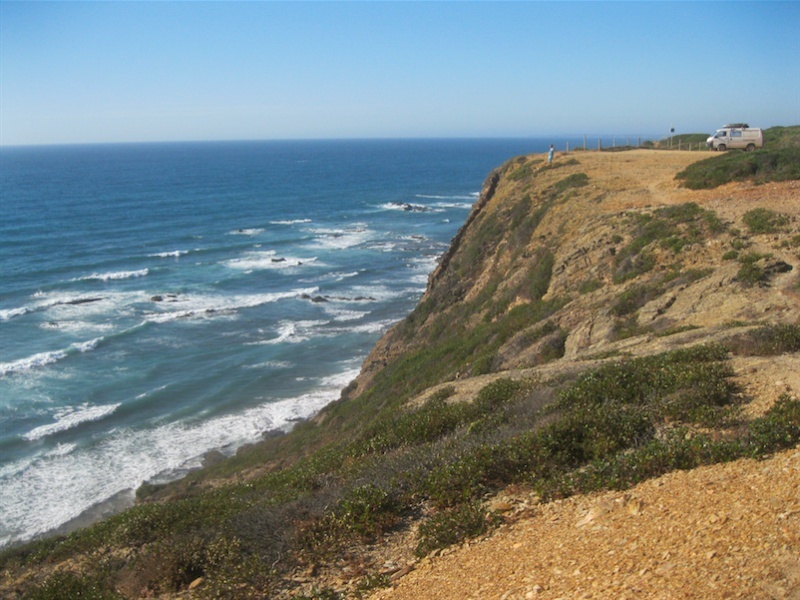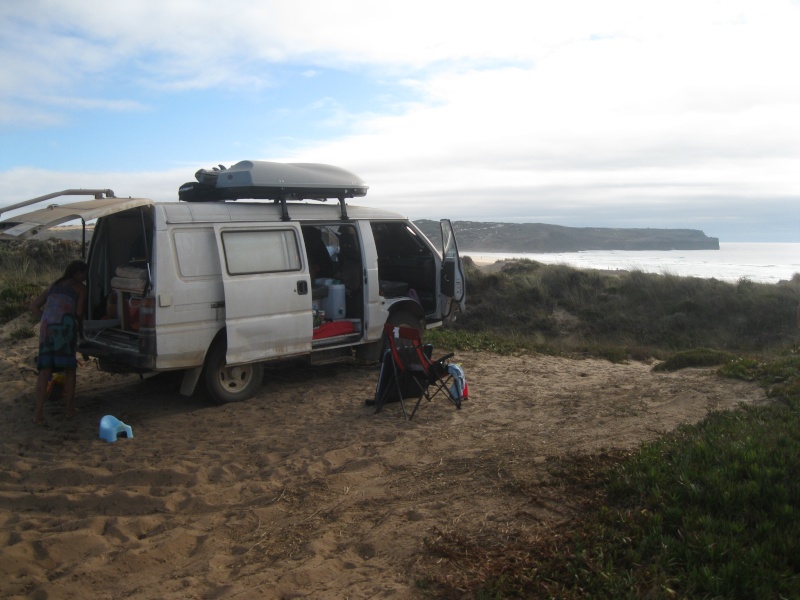 We had a mix of all sort of roads with plenty of highway to drive from South of France to South Portugal (sometimes with 45° Celsius outside in South of Spain -- 41°C in Cordoba at 8pm for instance). We got stuck only once in a steep hill with deep sand (i was a bit lazy on lowering the tires pressure). All in all, the L300 was perfect for the trip but i'm wondering about some changes:
1. I was not considering making a lift but now after getting caught in the sand with the van sitting on the sand, I'm thinking about it (also because I think the shocks need to be replaced at some point). I don't want to change the size of my tires which are very good (215/80 R15 Hankook All terrain). My question however is: would I weaken the reliability of the van if I do this (2" lift)?
2. I want to add a second battery. In our Austrian van, it is placed outside underneath the van in a waterproof box. I plan to do the same. I'll try to take some pics when we are back in Austria.
3. I think the fuel autonomy is too low (we are thinking about Marocco for our next trip) and I think we will need an additional fuel tank.
4. Water is also a problem because for now, we had two big jerricans in the van and they take too much space. I was thinking about adding a water tank (40L) also underneath. Any idea about how to fits the two tanks welcome!
5. I bought a nice roof rack in England but the guy proved to be not very reliable and the legs are really crap so that i could not take it with us. This was a problem because with therefore lose a lot of space inside. I have now to find someone that can build some legs from scratch (like the original AIBA ones). We however had roof bars (see pics) but with the high roof it is a pain in the ass to access the surfboards and the roof box (also because without the roof rack I could not use the ladder and stay on the roof rack to access the surfboards and roof box more easily). To get the surfboards down, I had to stand with one foot on each roof bar which is not very confortable. I think I should build a complete aluminium box for the surfing and kitesurfing gear so that we don't have to straps everything all the time (I will need to learn how to work with aluminium though!)
STL