Hey guys,
I figured since a lot of mods will be going into this ride, I may as well plunk it here in this mods section.
So the new project has arrived, a 1998 L400 LWB 3000 V6 (6G72) S2 Delica... a first foray into Mitsubishi after years of MR2's. The purpose for this vehicle is highway cruising/hauling, with good handling, and upgraded power, for the very smooth roads of Vancouver Island. Yes sure, there is plenty of off-roading here too, but that is not the purpose for this ride. Looking for road-holding on sweeping 120km speed-limit curves.
First things first, wheels and tires were already purchased for this vehicle before the vehicle was obtained, haha. Priorities are important. So, to make a big lunker stick, those 80-series tires GOTTA go.
On
are going:
255 45 20 Duelers on 20 x 8.5 VW 750 Velocity's, +30 offset
So still a 29" overall diameter.
This thing got delivered and 20 minutes later, the new tires/wheels were on for a test fit, and they fit perfectly, no rubbing lock-to-lock etc (whew! off to a good start):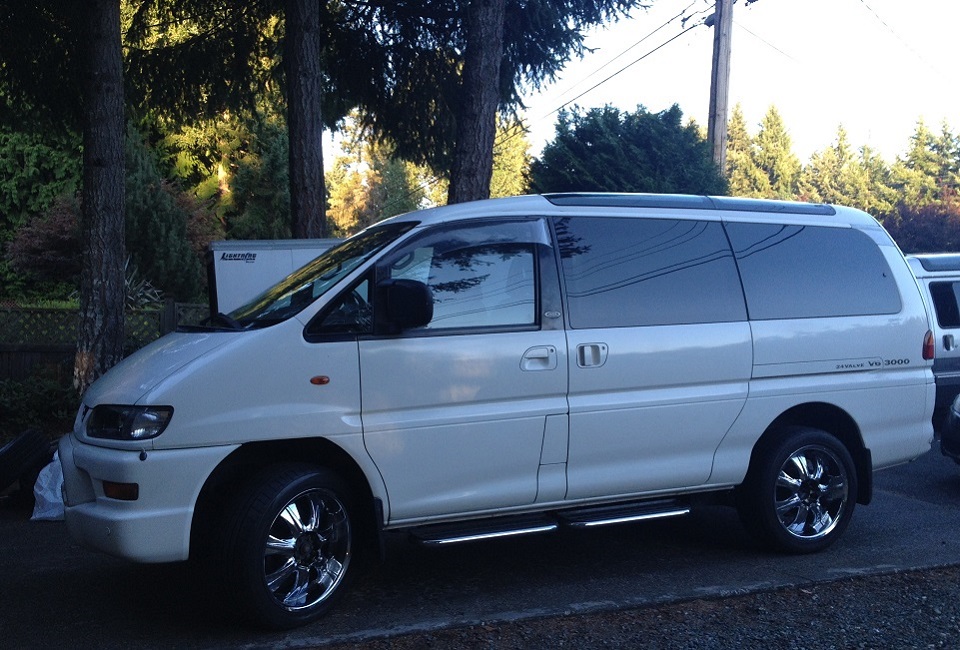 Haven't decided on center-cap area yet, don't care so much for the caps that come with these wheels, may incorporate the Mitsu caps somehow, or just black out everything in the center and leave as is...
Next planned is a 2" lift kit (Wolfram/negativentropy's kit), which will lift the upper ball joints (about 1 1/4" spacers and then torsion bars), rear HD springs (about 3/4"), rear 2" spacers, 2" spacers for the sway bar, a 2" spacer for the rear brake bias, 2" longer shocks, plus any updates like bushes, tie-rods etc as required. Yes, we realize that the handling will be the best just as it is with these new wheels/tires and no lift, but since the stance just got wider by 2.5" total, the extra height should not be noticeable compared to stock, in fact, will likely still out-handle the stock setup. C'mon, intimidation is important to handling :p
A little further down the mods planned, there is a nice M62 (Benz clutch-type) supercharger sitting here waiting, and with some big intercooling (a CyKlops specialty) or perhaps just water/meth injection (haven't decided yet), and tuning options (want to stay oem ecu, since this S2 came with a flash plug next to the obd2 port), an adventure is in the works. A spare 6G72 block should arrive this next week, for some mocking up and bracket fabrication over the next while, and potential bottom-end buildup if necessary.
Have not decided on exhaust yet, clearly there are improvements to be had over that looooooonnng 1 3/4" noodle (or whatever diameter it is, it looks puny especially in those tight 90°bends) going all the way out back, but there is something special about how silent this thing actually is. Uber quiet compared to most trucks. Hmmm perhaps dual stockers out the right side, instead of merging into one? Turn the stockers on their sides? even keeping the little silencers or whatever they are? Hmmmm no noise complaints from the fiance would be a bonus, especially since she might actually set foot in this one.
No promises on timelines, but I never quit until I get what I want.
Any thoughts and help most welcome... go a bit easy on the Mitsu noob... but this should be fun!